Stocks: Should investors sell in May?

Its that time of the year again when investors wonder: "Should I sell in May and go away…??"
Pedro Goncalves – Finance reporter
Mon, 9 May 2022, 12:00 pm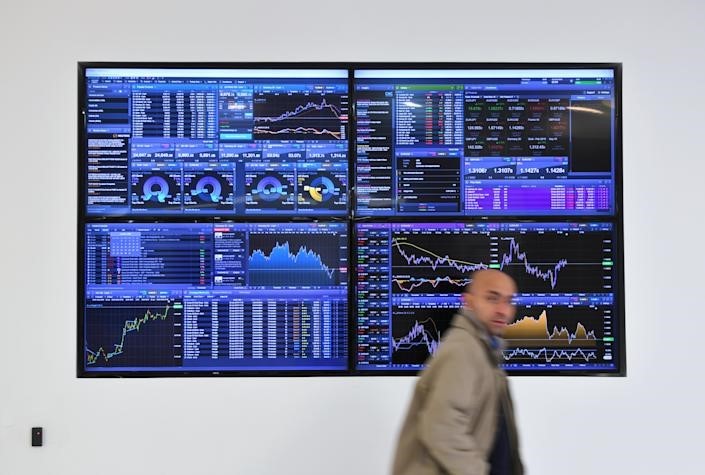 Stocks: Will this month see investors following the old adage 'Sell in May and go away'? Photo: Dylan Martinez/Reuters
It's that time of the year again when investors wonder, should I follow the old adage, and "Sell in May and go away. Don't come back until St Leger's day?"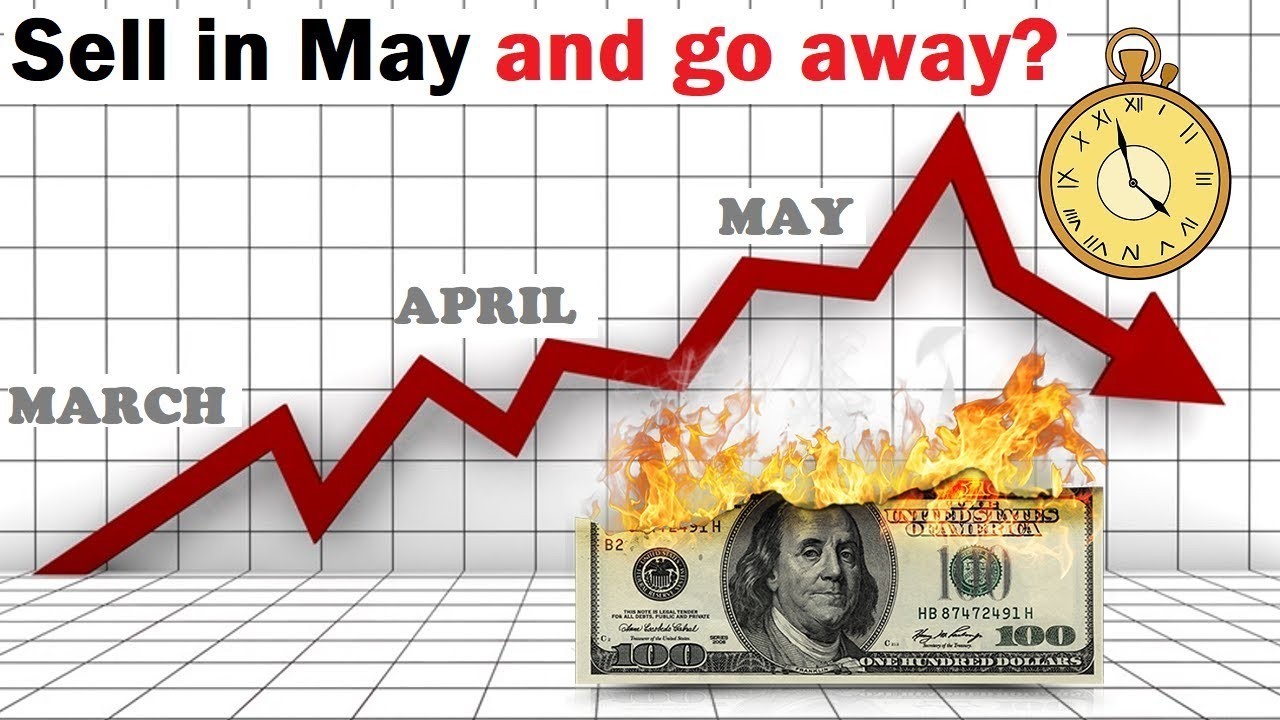 The proverb suggests that the summer months are prone to market upsets, with some investors choosing to avoid activity during this time and has often proven true for the US and European markets. The adage would have investors dumping stocks right about now, only to return to the markets around mid-September.
However, with record high inflation and growing hawkish tones of central banks, investors are wondering if that's the right strategy this year.

Bestinvest, the online investment and coaching service for private investors, has put the theory to the test, looking at the performance of the UK stock market during the months of May, June, July and August over the last fifty years.
Putting the sell in May theory to the test
Based on analysis of market data since 1972, Bestinvest has found that over this period, UK share prices declined across these four months 46% of the time and rose 54% of the time, indicating no strong overall pattern of either losses or gains. However, when dividend payments are included, as well as share price movements, the months of May to August have delivered a positive total return for investors 64% of the time. Looking at global shares – not just those listed on the UK market – Bestinvest found that the summer months saw positive returns 64% of the time (and 68% of the time once dividends were included).
While there is no convincing case that the summer months are usually loss making, analysis of the average monthly returns over the last half century does reveal that June has been the worst month overall with an average decline in UK share prices of 0.92% (softened to -0.60% when dividends are included).
Average returns have also been slightly negative in May too, with September another month that has seen more than its fair share of market upsets.
In contrast, April, January and December have proven the best months for average returns, with the latter phenomenon nicknamed the Santa Rally.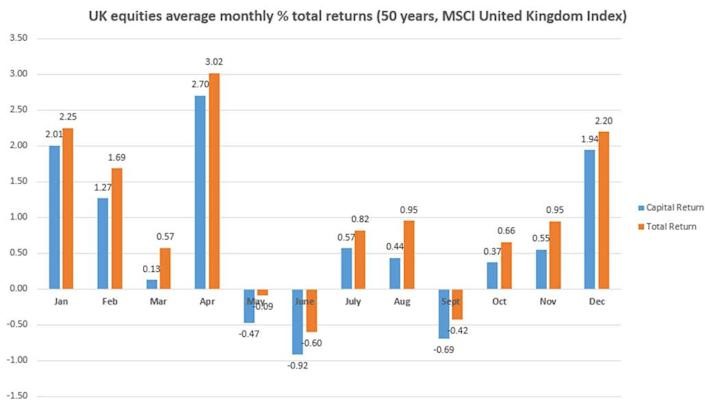 Average returns on MSCI United Kingdom Index, January 1972 onwards. Total Return includes impact of dividends reinvested. Source: Bestinvest/Lipper.
For global equities, however, Bestinvest said there is even less evidence of the summer months being a danger zone for investors. Average returns during the summer months have been more modest, but still positive, it highlights. The figures show that September is the only month when global equities have delivered negative average returns over the last fifty years.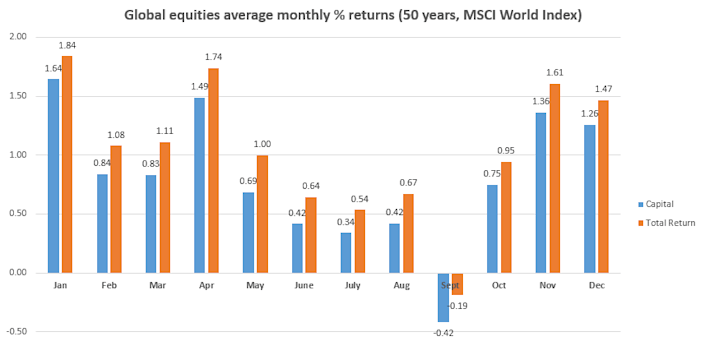 Average returns on MSCI World Index, January 1972 onwards. Total Return includes impact of dividends reinvested. Source: Bestinvest/Lipper
The analysis shows that there have been some turbulent summers in the past – especially during the seventies – and it is these that cemented the views of some investors that the summer months are volatile.
However, Bestinvest underscored that eight times over the last fifty years when the UK stock market has posted double-digit losses during May-August have been matched by eight sizzling summers when the total returns made on UK shares were over 10%.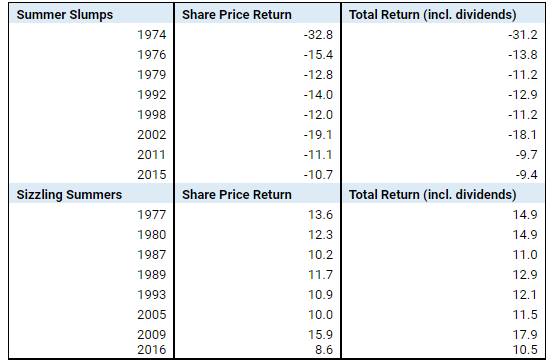 Returns on MSCI United Kingdom Index, May-end August. Total Return includes impact of dividends reinvested. Source: Bestinvest/Lipper.
Ignore an old cliché?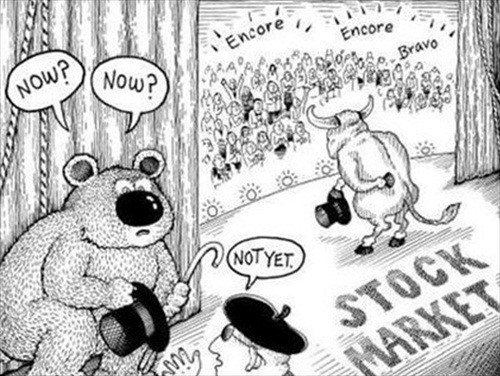 Jason Hollands, managing director of Bestinvest, said: "Current investor sentiment is being impacted by the war in Ukraine, soaring inflation, the prospect of sharp increases in interest rates and likely supply chain disruptions as a result of another wave of draconian COVID lockdowns in China. There are therefore plenty of reasons why some might take a cautious view on the short-term prospects for the stock market given this wall of worry."
"However, in truth it is virtually impossible to accurately predict short-term movements in the markets and history suggests that there are as many examples of very strong summers for share prices as there have been market slumps. The case for systematically avoiding being invested during the summer is therefore very weak and selling up now might mean missing out on eligibility for valuable dividend payments, as well as any improvement in fortunes after a tough start to the year and a lot of worry being priced into the market.
"Our view, is that it is wiser to 'keep calm and carry on' and take a long-term perspective when investing in the stock market rather than try to second guess what may happen over the space of a few months."
Also, the origins of the 'Sell in May' saying actually have little to do with the perceived risks of being invested during the summer and are instead rooted in the social calendar of a bygone age.
It originates from a time when City types would hang up their bowler hats and leave London for the summer to enjoy a slew of sporting and social events known as 'The Season'.
This calendar of events included Royal Ascot, Wimbledon, Henley Royal Regatta, Cowes Week and ended with the St. Leger flat race in Doncaster in mid-September.
Please note the above article was first published by UK Yahoo Finance and should not be regarded as individual investment advice on whether to buy, sell or hold any investment. Please speak to Ethical Offshore Investments (or your personal adviser) BEFORE you make any investment decision based on the information contained within this article.
At Ethical Offshore Investments, we can provide guidance on a range of Fund Managers that offer exposure to high growth potential companies. As we aim not to use commission paying funds, we will access the lowest charging version of the managed fund that is available on the relevant platform…… resulting in more of the investment growth staying in your pocket.
We will also NOT CHARGE any additional entry and/or exit fees to purchase these funds for our clients.
Socially Responsible Investing – Ethical Business Standards