2020's winning funds fall down the rankings – but how far?
Halfway through the year, Trustnet finds out how the funds that made 2020's highest returns are holding up in a very different market.

By Gary Jackson      (19th July 2021)
Head of editorial, FE fundinfo
Most of the funds that made the strongest returns in 2020 have tumbled down the performance rankings in 2021 so far, with only a handful managing to hang on to their sector-topping positions.

The shift in market leadership that came with the rollout of the Covid vaccination programme has been well covered, with the growth style of investing – which had dominated the market for much of the past decade and especially in 2020 – starting to fall behind previously unloved value stocks.
Research by Trustnet makes clear just how much of an impact this changing market backdrop has had on funds, with most of 2020's winners now finding themselves far down the ranking of the overall Investment Association universe.
The below table shows the 25 funds that the highest total returns in 2020 (we've excluded ETFs as they were only admitted to the Investment Association universe earlier this year) along with where they are ranked in 2021 out of their 3,904 peers.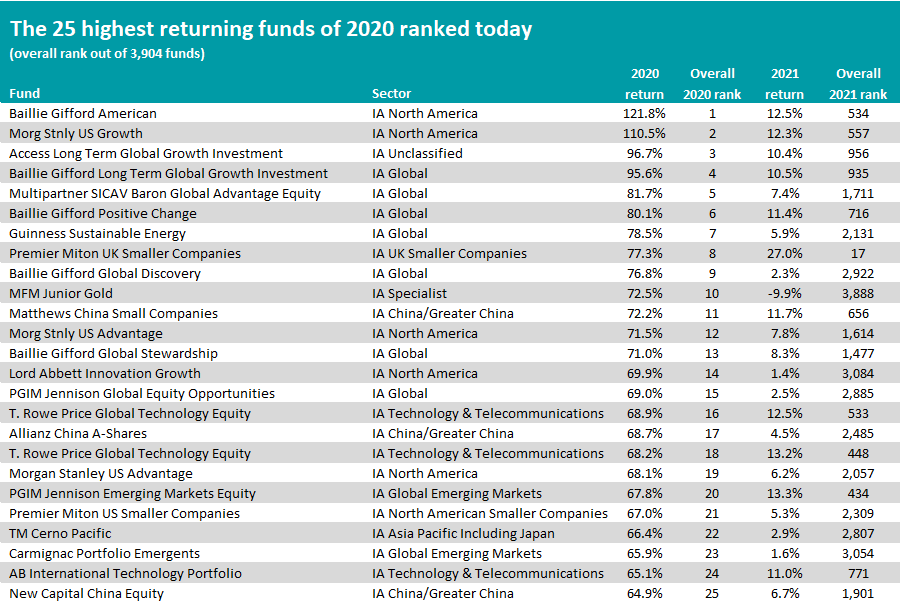 Source: FinXL. 2021 return as at 30 Jun
Baillie Gifford American shot the lights out in 2020, making 121.8% for its investors after its quality-growth approach and preference for disruptive US tech stocks prospered. For example, one of its major holdings is Zoom Video Communications, which became a mainstay of lockdown and surged 425% in 2020.
However, the £7.3bn fund made just 12.5% in the opening six months of 2021, pushing it into 534th place out of the close to 4,000 funds we looked at. But although market leadership has gone against the fund since the value rally, it remains in the top quartile of the whole Investment Association universe over this period.
Indeed, while the majority of the funds on the above list have tumbled down the performance ranking this year, quite a few are still in the top quartile of the universe. Among these are Morgan Stanley US Growth, Access Long Term Global Growth Investment, Baillie Gifford Long Term Global Growth Investment and Baillie Gifford Positive Change.
The strongest of last year's winners, however, is Premier Miton UK Smaller Companies.
This fund made the industry's eighth-highest return in 2020 thanks to a put option on the FTSE 100 and a number of success stories in its portfolio; returns in 2021 have been buoyed by the rally in UK smaller companies, putting the fund in 17th place overall over the past six months.
But many of last year's best performers have been hit with a much bigger fall down the rankings.
After gold rallied in 2020 when investors sought safe havens, it and other precious metals have struggled in 2021. MFM Junior Gold, with its focus on riskier small-cap gold miners, has gone from being the Investment Association universe's 10th best performer to the 3,888th.
Not every fall from the top has been as dramatic, but Carmignac Portfolio Emergents, Lord Abbett Innovation Growth and Baillie Gifford Global Discovery have gone from the Investment Association's overall first quartile to its bottom.
Flipping this on their head, the below table shows this year's 25 strongest funds along with where they ranked in 2020. ETFs have been included here, as they have been member of the IA sectors for most of 2021.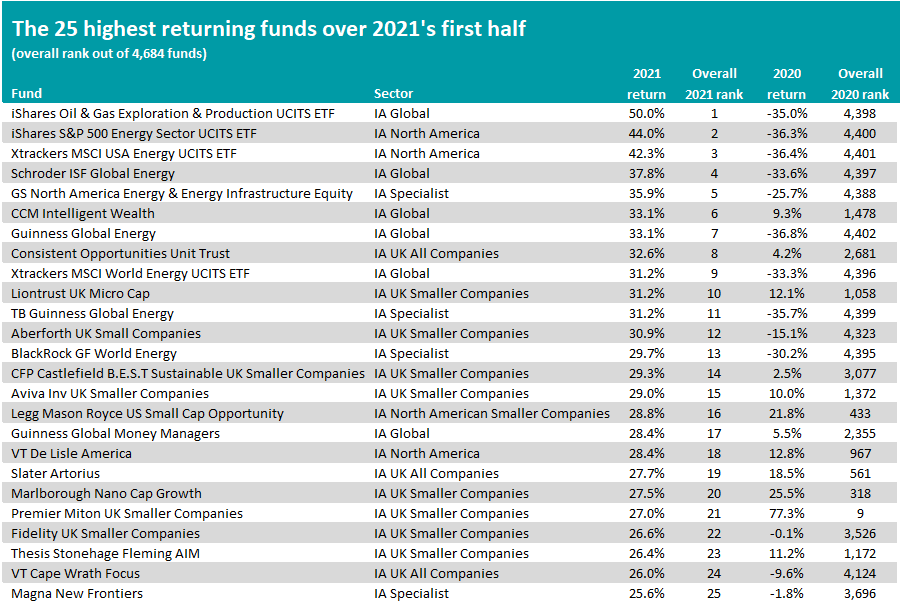 Source: FinXL. 2021 return as at 30 Jun
A quick glance at the table shows just how strong the reversal in fortune has been– barely any of 2021's highest-returning funds were in the top 1,000 last year. Quite a few of them posted heavy losses in 2021 and were towards the very bottom of the Investment Association universe.
The top of the table is dominated by energy strategies. These made some of the weakest returns of 2020 as the pandemic caused demand for many commodities to dry up and sent their prices plunging. However, 2021's global re-opening has caused demand to spike and commodity prices – aside from precious metals – shoot up.
This year's five best performers – iShares Oil & Gas Exploration & Production UCITS ETF, iShares S&P 500 Energy Sector UCITS ETF, Xtrackers MSCI USA Energy UCITS ETF, Schroder ISF Global Energy and GS North America Energy & Energy Infrastructure Equity – all focus on this area.
The above article was published on Trust Net on 19 July 2021.
At Ethical Offshore Investments, we will always allocate our clients to the lowest charging version of the managed funds that are available on the various individual and Life Company platforms. As we charge a transparent, easy to understand management fee for our services, we do not take commissions from Fund Manager groups, which ensures that our investment proposals are not influenced by financial incentives from the various Fund Manager groups.
More information on the benefits of this approach for our clients can be read by clicking here 
Please click on the More Information button below if you would like to learn more about how we at Ethical Offshore Investments can assist you in minimising your investment costs while still getting access to world class Investment Funds.