Sustainable Ethical Allocation Portfolios – How have they held up in 2020? (March 2020 Update)
To say that the first quarter of 2020 was a challenging one for investors would be an understatement. Not only have we had to deal with the financial and economic impact of the Corona COVID19, but at the start of March, markets were also hit with a significant fall in the price of oil.
With the restrictions on travel and the slump in the oil price, it was no surprise that it has been the oil related and the travel related companies (cruise lines, airlines, travel agents) that have been the hardest hit with the market sell off. 
The positive news is that our Sustainable Allocation Portfolios had no exposure to the Oil & Gas sector and had only minimal exposure to the travel industry. As a result, all 3 of Model Portfolios (Cautious, Balanced & Growth) did perform better than the general market. While we were unable to avoid losses during this period, the quality of the underlying assets and Fund Managers did help in reducing losses with lower levels of volatility.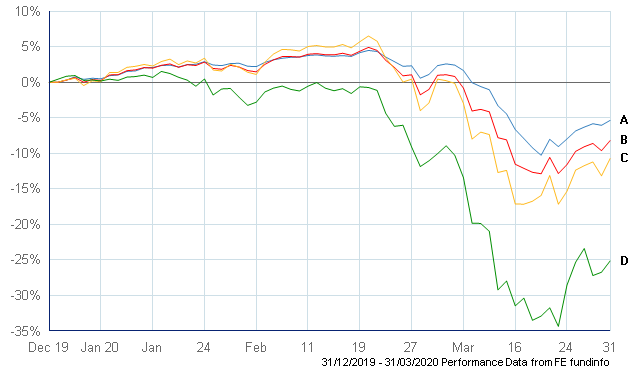 A. Sustainable Ethical CAUTIOUS Allocation
B. Sustainable Ethical BALANCED Allocation
C. Sustainable Ethical GROWTH Allocation
D. FTSE All Share Index
The Sustainable Ethical Allocations suffered losses of -5.4% (Cautious), -8.2% (Balanced) & -10.7% (Growth) for the 3 month period to 31st March 2020. This compares to the FTSE All Share which suffered a loss of 25.1% over the same time period.
Just for comparison, the S&P500 in the US had its worse ever first quarter with a loss of 20% and Europe fared even worse with the German DAX down 24.5% and the current covid19 hotspot (Italy) down 28.5% 
Obviously we don't like seeing any situation where we see a loss in value for our portfolios. But this does go to show that by investing in a portfolio of good quality Fund Managers, which in turn invest in good quality companies with a sustainable ethical outlook, this can soften the blow of negative markets during extreme periods of volatility. 
While we can not forecast when we can expect to see normality returning to the markets, we still do hold high confidence in the underlying Fund Managers and their ethical & sustainable investment strategies which in turn should result in consistent outperformance, with lower levels of volatility, over the longer term.
All of the managed funds held within our Sustainable Ethical Allocations are strictly regulated, liquid and trade on a daily basis.