Positive Performance for 2020 – Sustainable Ethical Allocation Portfolios in the green (April 2020 Update)
What a difference a month can make…
Unprecedented…… that seems to be the new 'buzz' word when trying to describe the financial markets of 2020. In my performance update at the end of March I made the blindingly obvious statement that the first quarter of 2020 was a challenging one for investors… but I also praised the quality of the underlying Fund Managers held in the portfolios where their performance did soften the negative impact being seen across the markets.
So what happened in April……… the word Unprecedented makes another appearance.
We saw a strong rebound in many of the financial markets and this has filtered through to the Sustainable Ethical Allocation portfolios, where we saw positive performance and returns of 14.6% for the Growth Allocation, 10.8% for Balanced Allocation and 7.2% for the Cautious Allocation.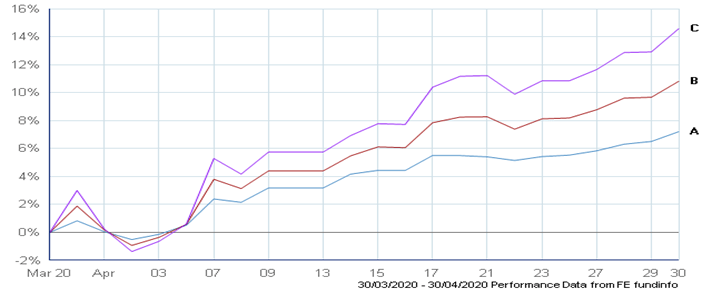 C. Sustainable Ethical GROWTH Allocation
B. Sustainable Ethical BALANCED Allocation
A. Sustainable Ethical CAUTIOUS Allocation

Positive Performance: This has resulted in all 3 Allocation Portfolios to now be in positive territory for 2020.
This compares to the FTSE All Share Index in the UK that is still struggling with a loss of 22% YTD and even the S&P 500 in the US is still down 9.8% YTD.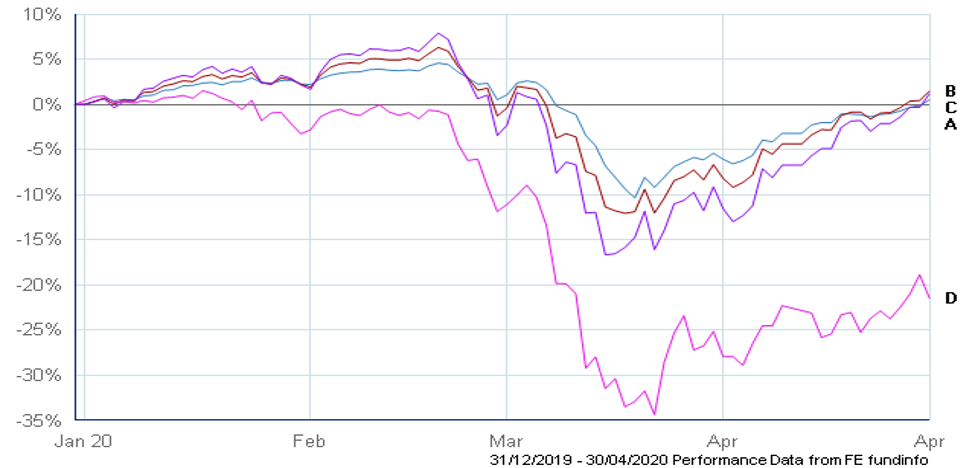 A. Sustainable Ethical GROWTH Allocation
B. Sustainable Ethical BALANCED Allocation
C. Sustainable Ethical CAUTIOUS Allocation
D. FTSE All Share Index
Once again, while we can not forecast when we can expect to see normality returning to the markets, we still do hold high confidence in the underlying Fund Managers and their ethical & sustainable investment strategies which in turn should result in consistent outperformance, with lower levels of volatility, over the longer term.
All of the managed funds held within our Sustainable Ethical Allocations are strictly regulated, liquid and trade on a daily basis.
Request more information on the Sustainable Ethical Allocations