2020 – A year to forget….. or a year to remember..?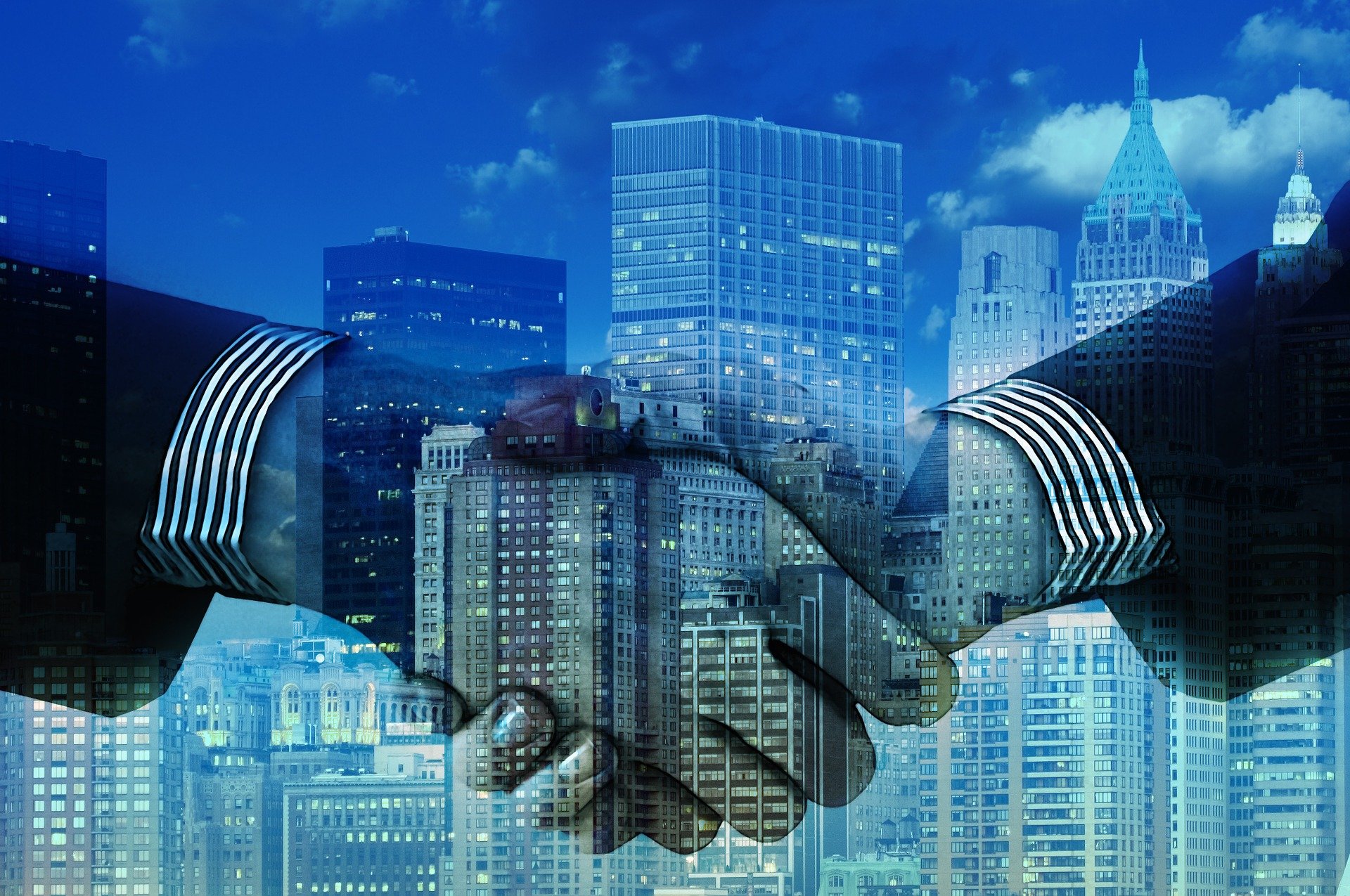 Now that 2020 is behind us, it is time to review how the Sustainable Ethical Allocation portfolios performed during one of the most volatile 12 month periods that investors have ever experienced.
Each and every year, there will always be events that occur that market participants were not prepared for. And 2020 was no different there…..
Obviously, the big event this year was the covid19 virus and how this virus spread the planet so quickly, which had a significant negative impact on global economies, shutting down local businesses and causing all sorts of chaos with travel arrangements. We also had a phenomenon where Oil Future Contracts went into negative territory, so in other words, investors/traders were paying people to take their contracts for oil delivery. US politics and probably the most controversial president the US has ever voted in was also making consistent headlines, and this also had (both positive and negative) impacts on the global financial markets. Plus, we had that on-going saga called BREXIT.
I am not going to make comment on the above issues, as there are plenty of other news & current affairs sources available to get your fix of global information and news.
So, with so many unprecedented events for 2020, how did the Sustainable Ethical Allocation Portfolios perform.
The good news for our investors is that all 3 allocation portfolios performed positively, considerably outperforming their benchmarks.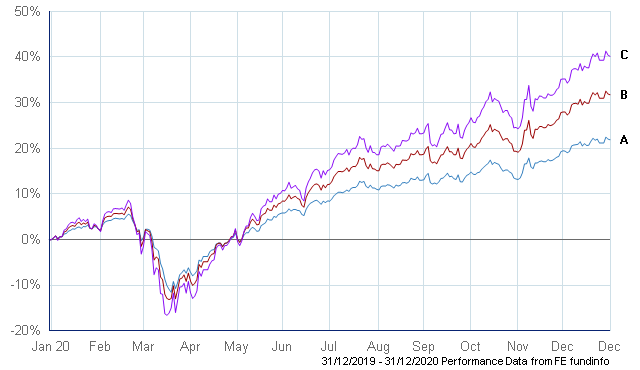 21.4% – Cautious Allocation

31.1% – Balanced Allocation

39.6% – Growth Allocation
As part of our ongoing reviews and monitoring of the Sustainable Ethical Allocation Portfolios, we also keep an eye on other multi-manager, multi-asset funds to see how they are performing throughout the year, and will compare their month-to-month performance against that of our Sustainable portfolios.
Our goal is to be a consistent top quartile performer amongst our peers through the use of high-quality individual fund managers and investing in higher quality, sustainable business entities.
So how did we perform….??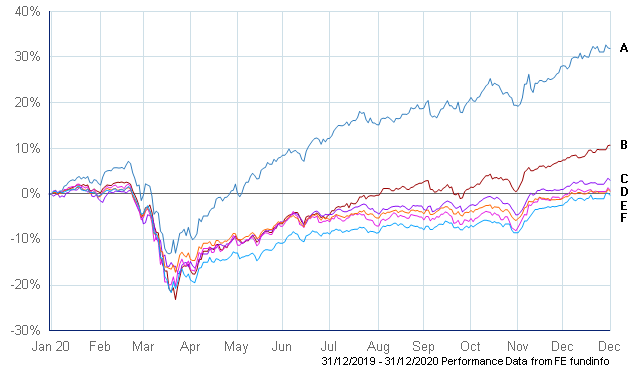 Sustainable Ethical BALANCED Allocation – GBP

Canaccord (CGWM) Diversity – GBP
Marlborough Balanced – GBP

Guinness Multi-Asset Balanced – GBP

Tilney Balanced Portfolio RETAIL – GBP

Harmony Momentum Sterling Balanced – GBP
I am very pleased to state that even with all of the turmoil that hit the investment world in February & March, which our portfolios were not immune from, not only have we been able to provide a positive return of over 30% for the year for our very diversified Balanced allocation, this has been substantially greater than what has been achieved by other diversified balanced portfolio managers. The above funds that we have compared the performance to are all diversified with a similar balanced risk style of asset allocation.
Looking at the performance on a month-by-month basis, the Sustainable Ethical Balanced Allocation portfolio had the best monthly performance in 7 of the 12 months and was the second-best performance for the other 5 months (the next best was Canaccord (CGWM Diversity) with top monthly performance 3 times).
So why has the Sustainable Ethical Allocation portfolios been able to significantly outperform our peers..??
I would like to think that it was the fund research that we took back in 2018 before constructing the portfolio allocations. While the general philosophy was to have a significant bias towards investing in sustainable entities with ethical business practices, we have been able to do this while also utilising fund managers that take a different approach and investment style in achieving their objectives.
All of the underlying funds held through the 3 Allocation Portfolios achieved a positive return for 2020…… and this includes the allocation towards direct UK equities which saw their FTSE All Share index benchmark drop around 10% for the year.
The portfolios were definitely helped by our holdings in various Baillie Gifford Funds, with the Positive Change Fund providing a return of 80.1% for the year (there is an allocation towards this fund across all 3 portfolios). While they may have slightly underperformed in the last quarter, our exposure to the various Royal London Sustainable funds also resulted in the year portfolio outperformance, with the diversified Sustainable World Trust up just over 20% for the year. Once again, this fund is allocated across all 3 portfolios.
What was also very pleasing to see this year was the defensive, more cautious type funds that actually helped with reducing the short-term volatility. The Royal London Sustainable Managed Growth Trust and Rathbone Ethical Bond funds, both of which are allocated across the Cautious and the Balanced allocations, provided returns of 10.6% and 8.9% for 2020 respectively and were also part of the reason why the portfolios avoided the worst of the market activity in February and through early March.
An additional point we would like to make is that of the portfolio charges. All managed funds will have a management fee, but at Ethical Offshore Investments, we will utilise the lowest cost version of the fund that is available on the various platforms / Life Companies. With the current fund allocations, the current combined fund manager Annual Management Charge (AMC) is:
0.61%p.a. Cautious Allocation
0.64%p.a. Balanced Allocation
0.76%p.a. Growth Allocation
There will be a separate report posted in the next few days about the various funds being used with our Sustainable model portfolios, but a preview of this is that of the 23 different funds being used across the 3 Sustainable model portfolios, 19 recorded top quartile performance against their peers with the other 4 funds recording 2nd quartile performance.
As readers can probably tell, we are very pleased with the performance of all 3 of our Sustainable model portfolios in not only being able to outperform their benchmarks, but also a significant outperformance against their peers while also exhibiting a lower level of short term volatility.
However, we are not resting on our laurels but instead, once again reviewing the current fund holdings as well as the opportunity to get exposure to other managed funds and trusts that meet our strict investment and ethical business practices and objectives. Our objective with the Sustainable Allocation Portfolios is to provide investors a range of 'core holdings' to consistently meet or exceed the relevant benchmarks, while doing so with a lower level of short term volatility and maintaining full liquidity and flexibility.
If you are a client holding a portfolio that you would like to compare against the Sustainable Ethical Allocation model portfolios, please use the More Information button at the bottom of this page. We will provide a full comparison report which will include:
Performance comparison (short, medium & longer term)
Consistency of performance against peers
Fund manager ratings
Asset allocation comparison
Level of diversification
Ongoing charges
All of the funds that we propose for our clients must be strictly regulated, transparent with their investment holdings and/or investment strategy, liquid and preferably trade on a daily basis. As per above, we will utilise the lowest charging version of that fund that is available on the relevant platform / Life Company.