The funds hit by the coronavirus sell-off

By David Brenchley
---
Almost all sectors in the Investment Association (IA) universe suffered heavy losses last week as equity markets sold off amid increasing coronavirus concerns, data from FE fundinfo shows.
As the COVID-19 virus spread around the world, investors panicked, with around $5trn of value wiped off stocks globally as the MSCI World index fell by around 6%.
While the IA UK Smaller Companies sector was the biggest loser, with the average sector fund slipping by 9.1%, US stocks bore the brunt of the sell-off. Funds in the IA North American Smaller Companies and IA North America sectors declined by 8.7% and 8.6% respectively.
Other UK sectors meanwhile dropped by around 8%, with the IA Global sector falling just more than 7% alongside the IA Technology & Telecommunications funds.
At the opposite end of the scale, just five sectors were in the green, led by the IA UK Index-linked Gilts sector, which gained 0.7%. Other bond sectors – UK Gilts and Global Bonds – also rallied narrowly, as did money market funds.
Energy funds suffer
At the individual funds level, it was commodities offerings that showed the largest losses, with Schroder ISF Global Energy, MFM Junior Oils Trust, MFM Gold and TB Guinness Global Energy down by 16%, 14%, 13.1% and 13% respectively.
In a similar vein, the commodity-heavy Russian market also fell heavily, with HSBC GIF Russia Equity, Pictet Emerging Europe and Pictet Russian Equities coming in next with losses of 12.9%, 12.9% and 12.7%.
In the UK fund sectors, the worst performer was the MI Discretionary Unit Trust, which lost 11.8%. That was followed by SVM UK Opportunities (11.6%), Unicorn UK Growth (11.4%) and TM Cavendish AIM (11.4%).
The SVM fund's second largest holding is Ryanair; airlines have been hit the hardest as the virus has disrupted travel plans.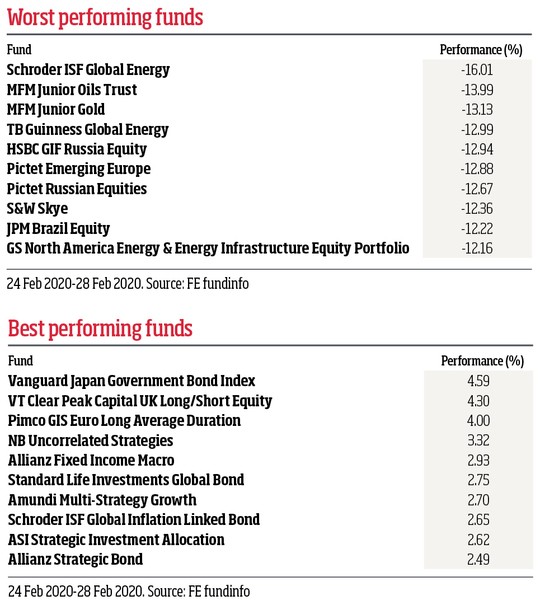 ---
Original article by David Brenchley appears at Investment Week UK
https://www.investmentweek.co.uk/news/4011621/funds-hit-coronavirus-sell