'Do nothing' Train buys Fevertree after six-year wait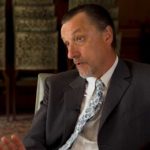 Nick Train, one of the UK's few remaining star fund managers after the downfall of Neil Woodord, has scooped up a stake in battered tonic maker Fevertree (FEVR) and declared himself uninterested in the stock market turmoil caused by the coronavirus.
Train invested 0.6% of Finsbury Growth & Income Trust (FGT) in Fevertree this month as its share price sank following a profits warning in January caused by disappointing Christmas trading.
The Citywire AA-rated fund manager told shareholders in the £1.7bn investment trust that Fevertree was 'a classic Lindsell Train idea', referring to the investment firm he co-founded with Michael Lindsell 20 years ago.
After a meteoric rise from their flotation in late 2014 as Fevertree stole market share from Coca-Cola's Schweppes, the company's shares peaked at over £38 in September 2018. Since then they have plunged by two thirds as fears have grown about the company's US expansion and whether the UK tonics market has lost its fizz.
More than tonic
Train acknowledged the £1.5bn company faced challenges in the short- and medium-term. Asked by an FGT shareholder whether Fevertree was too 'fashionable' and vulnerable to changes in consumer taste, Train replied: 'A brand of global significance has been established. There is an opportunity to grow that brand equity in Europe and the US.'
But he agreed that 'Fevertree needs to be about more than tonic' if it was to continue to succeed, pointing to the growth potential in its ginger ale and soda water products in the US.
Train told investors at FGT's annual general meeting in London's Guildhall that he and Lindsell had watched Fevertree for years looking for an opportunity to buy.
'Having kicked ourselves for not buying it seven years ago then to see the collapse in the share price,' he said they had to act.
Train declined to say what price he had bought Fevertree but said it was 'notably under £14'. The shares have continued to fall as covid-19 fears have gripped the market, down 3.9% or 51.5p to £12.63 today. 
Don't panic 
As a long-term bull of equities Train was reluctant to talk too much about the rout that has swept global stock markets this week. 'Our rule of thumb is to do nothing. It's the most rational thing to do – probably!' quipped the manager who used market falls last month to top up favourite holdings such as Burberry (BRBY) and Remy Cointreau.
When asked by another shareholder to say more Train declined, explaining: 'I could blather to you about it but I'm not going to. It's not part of our investment process, it's not how we look at the world.
'You shouldn't sell in a panic,' he added.
'There are opportunities building as a result which we're looking at. I'm not interested,' he concluded on the virus topic.
The Fevertree purchase marks a relatively busy time for Train who is renowned for the low turnover of his portfolio, most of whose 23 stocks he has held for over 10 years.
Last summer he added Imperial Leather soap maker PZ Cussons (PZC), his first UK listed equity buy in nine years, although its 0.3% weighting in FGT indicates the caution with which the manager is approaching the company, which has suffered the collapse of its profits in Nigeria.
Train did not disclose whether he had bought Fevertree for the £3.6bn Lindsell Train UK Equity fund, which was downgraded by Morningstar on capacity concerns in December, but it is likely given the similarity with which he runs both portfolios.
Bust and boom
Train defended his decision to add PZ Cussons, whose shares have fallen 15% in the past six months, arguing that its strong position in Nigeria should stand it in good stead given the long-term growth anticipated in its population.
'I'm not a geopolitical expert. I've no idea if Nigeria will recover as an economy or a polity but emerging markets have shown boom and busts before,' Train said.
'Buying Nigeria earnings now is definitely at the bottom as that population grows, having that number one position in soap, shampoo, baby care and refrigeration will be valuable,' he said.
Establishing long-term positions in companies Train believes have powerful global franchises – such as London Stock Exchange (LSE), the trust's biggest holding at 11% – has served FGT shareholders well. Over 10 years investors have received a total return, including dividends, of 323.5% that puts the trust at the top of the AIC UK Equity Income sector.
Train used the example of Diageo (DGE) to underline his opposition to taking profits on his winners. Since FGT invested in the Guinness to Johnnie Walker whiskey group in 2001 its share price – or capital return excluding dividends – had risen four-fold, beating the FTSE All Share's modest advance of 40%.
'That demonstrates what can happen if you invest and hang on to exceptional companies over time,' he said.
Pearson folly
Pearson (PSON) is the big fly in the ointment, however, with Train having lost shareholders money since buying the education publisher at 791p in 2002. The shares stand at 548.4p, down 3.6% today, after a series of profit warnings driven by its switch from print to online learning.
Train described the holding as a 'folly' and in a sign that he was losing faith in its ability to adapt to new media, he said 'I'm no longer an exponent of this company. I'm just trying to manage the investment.' Rather than take profits, Train may be poised to cut his losses in a company in which he holds 10% of the shares.
---
Original article by Gavin Lumsden originally appears at Citywire Funds Insider
https://citywire.co.uk/funds-insider/news/do-nothing-train-buys-fevertree-after-six-year-wait/a1329041