The global growth funds hit hardest by the recent sell-off
The recent sell off has not been too kind towards our Sustainable Growth type Investments
05 October 2021
Global growth, small-caps and sustainable growth funds have been hit the hardest by the recent sell-off in equities amidst rising interest rate fears.
By Abraham Darwyne
Senior Reporter, Trustnet
Baillie Gifford Positive Change, Montanaro Better World and Liontrust Global Smaller Companies were some of the global funds most affected by the sell-off in global growth stocks over the past few weeks.
Since the second week of September, global growth stocks have fallen more than 6% from their highs as investors started to show concerns over slowing economic growth combined with stubbornly persistent inflation.
Even though surging energy prices and continued supply chain disruptions show no sign of abating, central banks are still indicating that they are preparing to tighten monetary policy.
Global growth stocks have been under more pressure than the broader market because investors will more heavily discount the value of their future earnings in a rising interest rate or inflationary environment.
Performance of MSCI World Growth index v MSCI World index year-to-date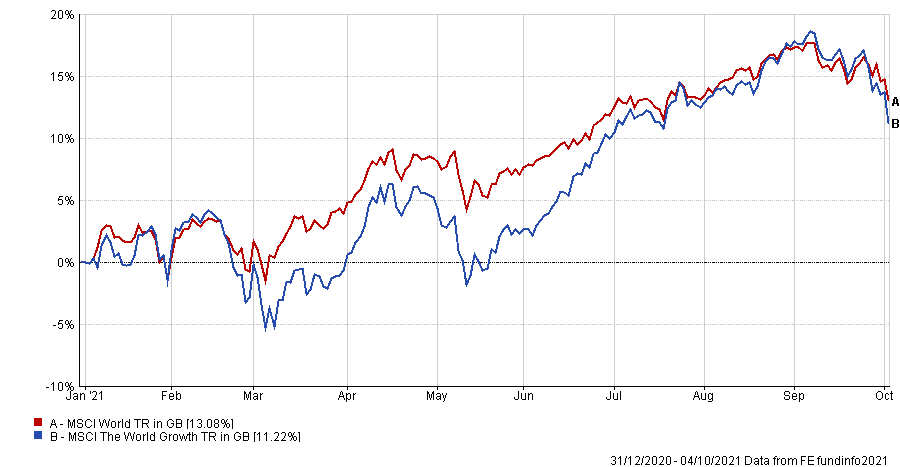 Source: FE Analytics
However, this is not the first time this year that global growth stocks have sold-off due to similar concerns.
In February, the MSCI World Growth index endured a 9% correction that lasted 2 weeks after long-dated government bonds sold off and yields spiked on fears surrounding inflation.
The table below shows the 25 global equity funds which were hardest hit over the past week, from Monday the 27th of September to Monday the 4th of October.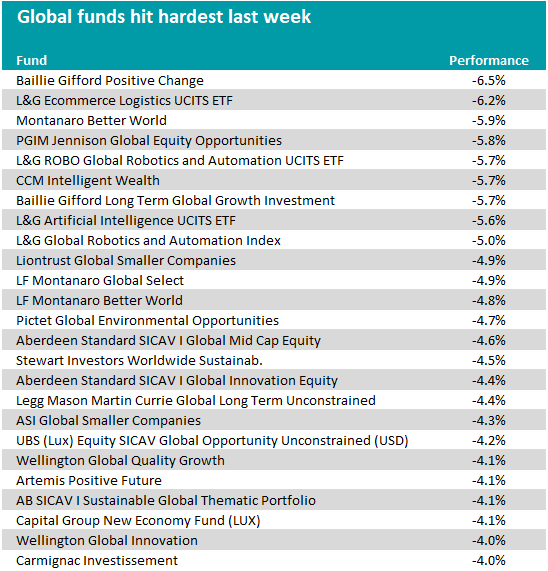 Source: FE Analytics
About 96% of the funds in the Investment Association's global sector experienced negative returns last week, but growth, small-cap growth and sustainable growth strategies were hit much harder than value strategies.
The hardest hit fund was the FE fundinfo five-crown rated Baillie Gifford Positive Change fund, which lost 6.47% in value over the past week – although it is still up 14.7% year-to-date.
The growth-orientated strategy's biggest holdings were amongst the stocks hardest hit by the last week's volatility. Moderna and ASML, two of the fund's largest positions, were down 20% and 15% respectively.
There were quite a few sustainable growth strategies that featured in the table. These included Montanaro Better World, Pictet Global Environmental Opportunities, Stewart Investors Worldwide Sustainability and Artemis Positive Future.
The FE fundinfo five-crown rated Montanaro Better World fund for example, was the third hardest hit in the table, although it is still up 11.8% year-to-date.
Managed by Charles Montanaro, the fund invests in small- and mid- cap companies that the firm deems to have a positive impact on the world.
Two other small-cap focused funds that featured in the table were the Liontrust Global Smaller Companies fund, run by Robin Geffen and the ASI Global Smaller Companies fund, run by Alpha Manager Harry Nimmo alongside Kirsty Desson.
It is worth noting that all the funds in the table are still positive performers year-to-date despite the recent sell-off.
Conversely, those funds with a value tilt performed well, although Juliet Schooling Latter, research director at FundCalibre said that these managers were a "dying breed".
Funds such as ES R&M Global Recovery, Ninety One Global Special Situations and M&G Global Strategic Value all topped the charts as growth sold off.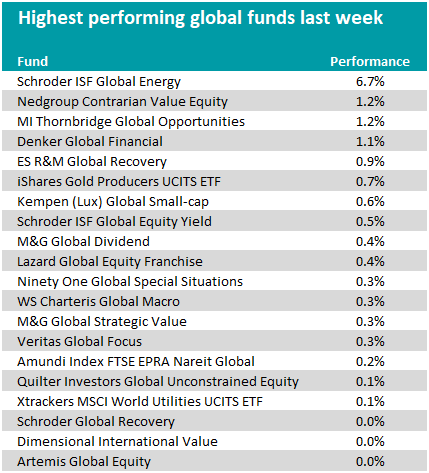 Source: FE Analytics
"Out of the best performing dozen or so funds, they were all either value funds or specialist energy products," she said.
Indeed, energy companies have enjoyed strong performance this year on the back of the price of oil which is up 63% year-to-date.
Although growth funds have had a slight reversal over the past week, she doesn't believe central banks will raise interest rates as quickly as last week's sell-off suggests.
Instead, markets may have just undergone a minor correction as some of the growth names may have gotten a bit too expensive, she added.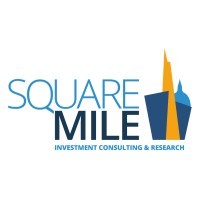 Ajay Vaid, investment research analyst at Square Mile Investment Research said he would caution investors to not make rash investment decisions on a one week move in markets, but noted that it does "fuel this interesting debate".
He said that investors should get comfortable with the volatility exhibited over the past few weeks, as markets headed for choppy waters towards the end of the year.
"Covid uncertainty is far from over," Vaid said. "Businesses still face tremendous pressures as economies continue to open/close with Covid and the delta variant being at the epicentre. Economies opening is likely to cause shorter term inflation increases, but will these be sustained?
"On top of that, global supply chains continue to be strained, adding even more doubt. A question one may ask is, are investors and fund managers necessarily interested in short-term volatility?
"Isn't the goal to be appropriately rewarded for long term risk? Volatility, as a measure of risk, has become too important in some minds. If investors have a long-time horizon, then in time these periods will appear as a blip."
Although growth, small- and mid- caps have underperformed this past week whilst energy and value strategies have outperformed, Vaid cautioned against rotating portfolios based off a week of historical performance.
He said: "It is true that value stocks will benefit from rising interest rates and inflation, and that growth stocks will suffer, as this feeds into the rate by which their future cash flows are discounted.
"Value may well have its time in the sun, but timing can be dangerous and unduly put capital at risk."
At Ethical Offshore Investments, we have a significant bias towards growth type funds with a focus towards investing into Sustainable type businesses. Some of which were mentioned in the above article.
When investing into these types of fund, we will always get access to the lowest charging version of this fund available on the relevant platform, which ensures that more of the growth stays in our clients pockets. 
If you would like to learn more about this fund, or the wide range of quality funds that are available to investors, click the More Information button below and we will contact you personally.
Sustainable Investing – Ethical Business Standards