August 2021 Update – Sustainable Ethical Allocation Portfolios
Positive momentum continues to power the Sustainable Ethical Allocation Portfolios
to an all time high…..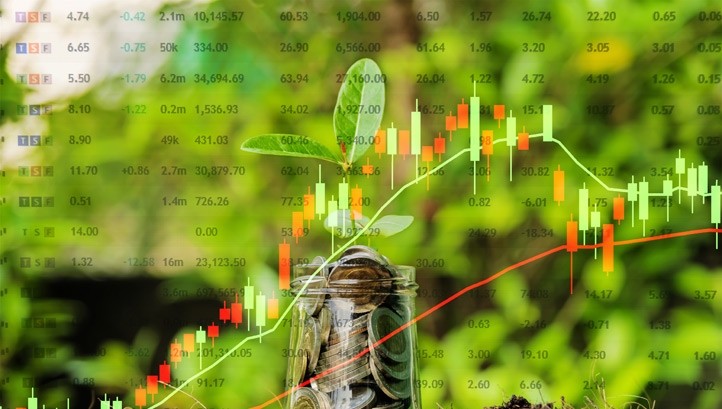 The Sustainable Ethical Allocation Portfolios experienced a strong positive performance for the month of August, reaching an All Time High at the end of the month.
The Cautious Allocation achieved a return of +3.0% for the month, Balanced Allocation +3.7%  and the Growth Allocation +4.5%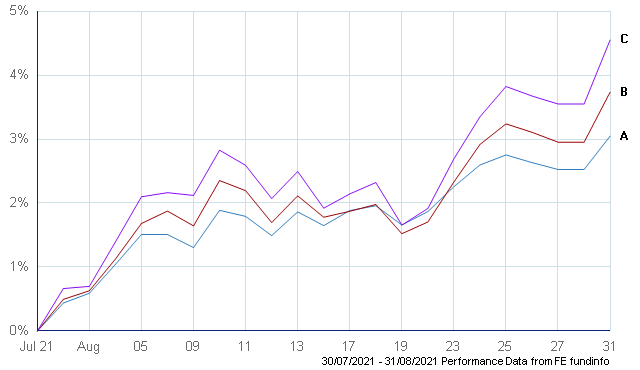 A – Sustainable Ethical CAUTIOUS Allocation

B – Sustainable Ethical BALANCED Allocation

C – Sustainable Ethical GROWTH Allocation 
August was one of those 'dream months' where all of the underlying assets held in the Sustainable Portfolios had positive performance.
As to be expected, the lower risk cautious style Fixed Interest / Bond funds performed at the lower end with returns ranging from 0.2% to 0.5% for the month with the diversified cautious allocation funds 1.5% to 2.4% for the period.
The Asian and Emerging Market exposure that detracted from the performance of the Balanced and Growth allocations last month, had an improvement of performance with returns of 2.1% to 2.7% for the month. However, this region is still experiencing a much higher level of short term volatility, which is predominantly coming from the Chinese ruling CCP instructing regulators to impose significant restrictions on companies involved in technology, food delivery and now on-line education. While our exposure to Asia does include some Chinese companies involved in the above industries, the funds are well diversified across other countries as well as business sectors. 
So what drove the portfolios this month…
The answer to the above seems to be a recurring response…… it was once again our long term favourite, Baillie Gifford Positive Change with a return of 7.8% for the month. The diversified Royal London Sustainable World Trust, which like the Baillie Gifford fund is held across all 3 Sustainable portfolios, provided a 4.9% return for the month.
Other notable performers for the month of August were Stewart Investors Worldwide Sustainability with +7.1%, Liontrust Sustainable Future Global Growth +5.8% and Rathbone Greenbank Global Sustainability +5.4%    
A –

Baillie Gifford Positive Change

B – 

Stewart Worldwide Sustainability

C –

Liontrust Sustainable Future Global Growth

D –

Rathbone Greenbank Global Sustainability

E –

Royal London Sustainable World Trust
Year to date performance…
After a bit of a rocky first half of the year, where we witnessed the ESG (Environmental & Social Governance) & SRI (Socially Responsible Investing) styles of investing struggling as many short term focused investors sold down their holdings in the anticipation of a recovery in the beaten down sectors of airlines, tourism, oil & gas, it is pleasing to see that maintaining the strategy of investing in good quality, well managed sustainable type businesses, has resulted once again in market beating performance. 
A – Sustainable Ethical CAUTIOUS Allocation

 B – Sustainable Ethical BALANCED Allocation

C – Sustainable Ethical GROWTH Allocation 
Changes to the Portfolios
We continue to review the underlying funds held in the various Sustainable Allocation portfolios, and as we are not affiliated with any of the fund management groups, we are free to make any allocation changes that we feel is necessary to improve performance.
At this stage, once again we are comfortable with the current range of funds held in the portfolios, so we will be maintaining the current fund allocation.
REMINDER – ensure that you have a Cash Reserve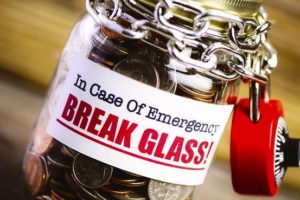 As part of our ongoing client management service, we stress the importance of ensuring that investors maintain sufficient cash (or very low risk, liquid assets) that can be called upon to cover their short-term income and/or capital purchase requirements.
While all of the underlying funds held in the Sustainable Ethical Allocation Portfolios do trade on a daily basis, we feel that it is very important to have access to some proceeds that is not subject to the daily movement (both up & down) that is applicable when investing in the financial markets.
This was highlighted back in February & March 2020 when the panic hit the markets thanks to Covid19 and even again (to a much lesser extent) at the start of this year, when the performance of the portfolios was not positive. If you are accessing your required proceeds from an area that is experience minimal to no negativity (i.e. Cash in bank), you are theoretically drawing from an asset that has not been effected by the current negative market conditions.  It then provides time for the growth area of your portfolio to recover at which time, you draw some of the growth out & replenish your cash reserve.
Structured Note Investments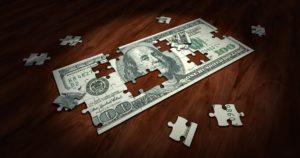 Investors can also further diversify their portfolios through the use of Structured Notes. While Structured Notes are not our core investment offerings (we prefer the use of liquid, daily traded funds, ETF's and direct shares), they can provide an opportunity to reduce short term volatility while receiving a pre-determined (conditional) investment return.
With interest rates at historical lows, downward pressure on dividends and equity market uncertainty ahead, investors are becoming increasingly attracted to the benefits of structured products.
But it must be stressed that Structured Notes are generally regarded as longer term investments so timeframe and whether access to capital is required needs to be seriously considered. 
Some examples of the current notes available are:
Credit Agricole Technology Income Note – 8.00%pa (underlying assets are Alphabet (Google), Amazon Inc, Apple Inc, Microsoft Corp)
Morgan Stanley Prime Growth Note – 10.2%pa – (underlying assets FTSE100 Custom 3.5% Synthetic Index, Euro iStoxx 50 3% Synthetic Index)
BNP Paribas Developed Markets Autocall – 8.65%pa – (underlying assets S&P ASX 200 index, FTSE 100 index, TOPIX index, FTSE MIB index)
Please click the below link to get information on the range of Structured Notes currently available via Ethical Offshore Investments.
https://ethicaloffshoreinvestments.com/structured-notes      
If you would like to receive further information on the Sustainable Ethical Allocation Portfolios or on the underlying individual Managed Funds, please click REQUEST MORE INFORMATION.