To say that 2020 has been tumultuous and unprecedented, I don't think that there would be many people that would disagree with you. And the Investment markets have encountered volatility and market movements not seen since the darkest days of the Global Financial Crisis.
So where has the opportunity been..??
Back on 6th April 2020, I wrote an article titled Within this turmoil, is there opportunity??
(https://ethicaloffshoreinvestments.com/top-features/within-this-turmoil-is-there-opportunity/)
And in this article, I highlighted a long term holding (and I will admit, a fund favourite of mine) which encountered high levels of volatility and a substantial fall in value. The fund was the Baillie Gifford Global Discovery fund (this fund is held in the Sustainable Ethical Allocation Balanced and Growth model portfolios).
At the time of writing that article, I stated that this fund had dropped by close to 30% from its highs on 20th February 2020 to 16th March 2020 (so far the low point this year) and was showing a year to date loss at the time of 10.25%. Pretty sad reading for anyone that invested in the fund this year, especially those that timed it at the worst point on 20th February…… or was it all Doom & Gloom..?
So was there an opportunity after all..??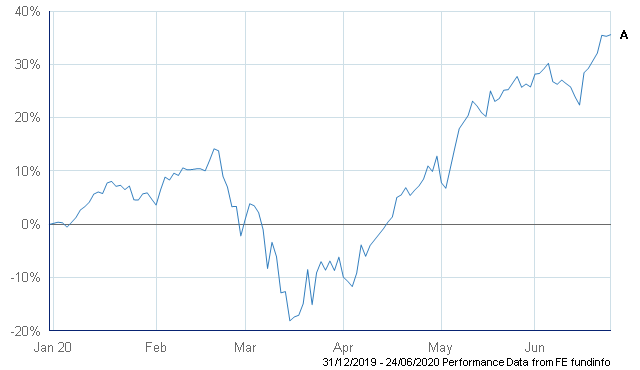 A. Baillie Gifford Global Discovery B Acc
The above graph indicates a resounding….. Yes there was. That Baillie Gifford fund is now showing a positive return of 35.6% year to date. Even investors that bought in at its previous highest level in February are enjoying a positive return of 18.7% (& don't forget, this is after they would have seen initial losses of close to 30%).  
I am the first to admit that while I was expecting this fund to recover from the sell off seen in February & March this year, I was definitely not expecting to see such a strong, positive move upwards in such a relatively short space of time, especially when there is still so much uncertainty surrounding covid19 and the potential for a second wave  (at time of writing, we are seeing markets being sold off so would expect to see a few % points knocked off the short term return for this fund).
What I want to highlight though is that medium to longer term investors, while it is unavoidable to be concerned with negative, short term performance, you do need to look at the bigger, longer term picture. The Baillie Gifford fund is very highly rated, with well credentialled managers and has proven itself with significant outperformance over the medium to longer term…… BUT…..
It must be remembered that investors need to take a medium to longer term outlook (5 years preferred minimum) and that investors need to diversify their investment holdings to reduce their management risk.
So why has this fund performed so well..?? The investment objective of this fund is to find attractive companies operating in industries that have the potential for structural change and innovation. This has resulted in around 60% of the fund being invested in the Healthcare and Information Technology sector….. both industries that have actually benefited from the current covid19 situation. This, plus the management experience and quality of investment style has rewarded investors over the past 5 years….. even with all of this turmoil and periods of negative returns.  
5 year performance – 

Global Discovery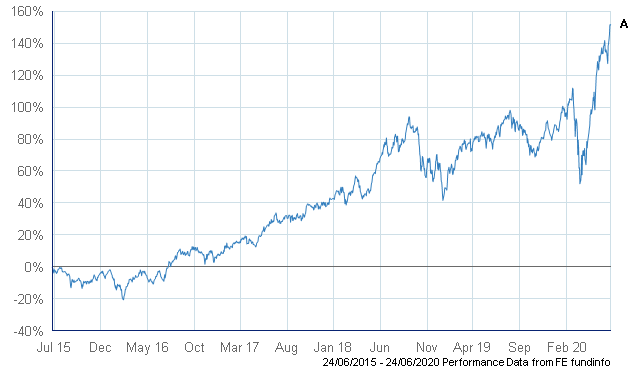 At Ethical Offshore Investments, we are continuing to research, review and provide guidance on what we believe are highly rated, regulated, high quality fund managers that invest in sustainable, quality entities, utilising ethical business practices for our clients. As we are not affiliated with any bank or fund management group, this ensures complete independence with our results.
If you would like further information on our Portfolio Management Service and the Sustainable Ethical Allocation model portfolios, please click on the request information button below.